I began working with Mike and Lori Mills of Lil Joe's Legendary Leathers based on a few simple facts:
All of their products are made in the USA…not designed in, or born in…TOTALLY made in the USA.
The vests are designed for riders by a rider. The cut, design and details take into consideration what riders want and need in a vest. No exposed snaps, deep leather lined pockets, flight fabric lining that will stand up to years of riding.
They stand behind their leathers with a lifetime guarantee.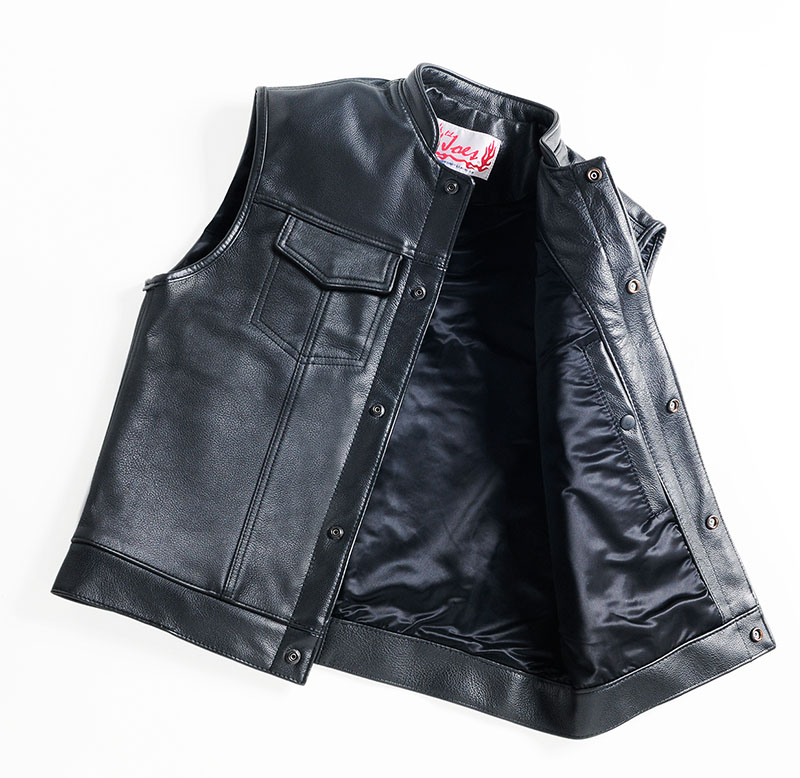 There are many Lil Joe's Legendary Leathers knock offs available.These vests cost half, or less than half the cost of a Lil Joe's vest. I want to share with you what the differences are, and why Lil Joes vests are worth the investment.
When you see the vests in person and try them on you can see the difference immediately. The leather quality is the first thing that you notice, in a word…beautiful. I have worked on Lil Joe's vests(the original HA)that are 10 years old and they are still amazing.  They are cut beautifully in the torso, shoulders are at the correct spot,the neckline is close to your body. You will never see a rider wearing a Lil Joe's vest with it billowing full of air because of the close cut of the body and shape of the armholes.
A vest or jacket filling with air is not only tiring and bothersome for the rider, it is dangerous for your passenger trying to hang on to a ball of air! Frankly, it looks a little silly too!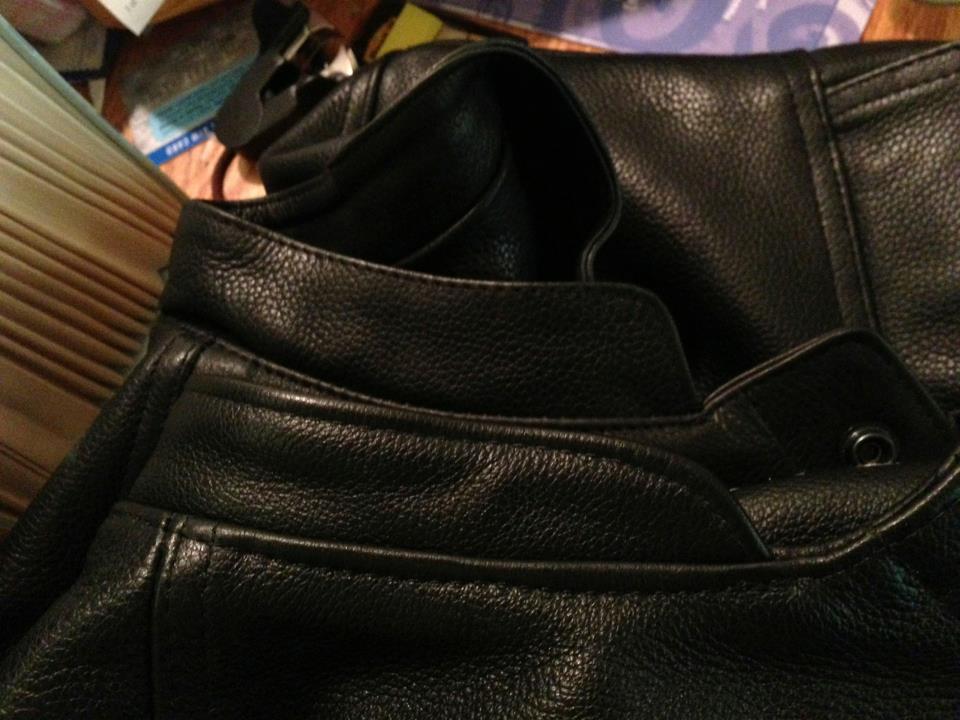 In the photo above the collars are compared, the upper being a knock-off. The shaping is squared at the front, overtime it will curl. The Lil Joe's Leather 1″ collar's curved design is meant to fit over a jacket or hoodie and stand the test of time. You can also see the leather is quite a bit thinner in the knock off. The shoulders sit out too far as well, as you can see in the photo below, and too wide across the chest which will cause the vest to fill with air. None of the knock offs have the flight lining, no raw seams and a life time guarantee.
The cast of Sons of Anarchy, wearing various styles of the Lil Joe's cut.
I am honored to be the go to girl for Lil Joe's vests and jackets in Canada. When you purchase Lil Joe's Legendary Leathers you are supporting family run businesses.
Buy from the experts and you won't be disappointed.Lil Joe's Legendary Leather vests and jackets are certainly well worth your investment. If you chose a vest or jacket you will love it for years to come.