The cooler mornings have me excited about  my own wardrobe transition. Early fall makes me reach for jeans,  with my summer tops topped with lightweight  leather jackets and great boots!
As the summer slowly turns to fall, it is time to have fun with your favorite summer pieces layered with fall jackets. The leather jacket as part of your outfit instead of covering it! We spend so many months in Canada all bundled up under winter coats…now is the time to enjoy fun leather jackets.
My fall ready to wear jackets are in buttery soft leather in yummy fall food inspired shades… Paprika, Carmel Apple, Plum, Red Pepper, Black Licorice….also shades of green and mocha.
Styles are cropped to biker inspired…even a nod to the 80′s…blazer styles that will be perfect at the office all in great colours.
My Lissa Label Trunk shows were such a success in the Spring that we are doing them for the Fall! (a Trunk Show is a preview of a designers upcoming season)I am offering my Lissa Label jackets at wholesale pricing.
I have added silk tops that are one of a kind or limited runs in hand picked colours to match the leathers. I also am thrilled to have one of a kind denim pieces hand painted by Hamilton, artist Sue Upton. Once her pieces are gone…that is it!
When you book a trunk party you can have it at a location of your choice or in my Hamilton studio. I will present the styles the best way to incorporate them into your wardrobe and how to wear leather jackets not just as outer wear.
A fun option is for your guests to bring their favorite tops or out fits and I will offer style tips on how to bring fashion leather into their wardrobe.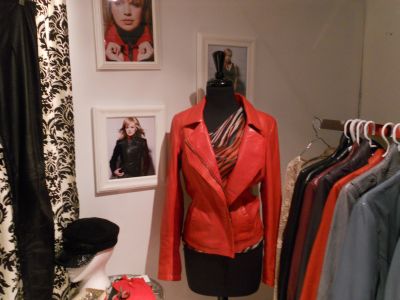 With every sale the hostess earns Leather Loonies with can go toward your own jacket order or I will donate the amount to the charity of your choice. All jackets are wholesale priced from $110.00 to $250 (10%) of every sale goes to the hostess. sizes xs to xxl
book a date email lissa@lissahill.com or call the studio (905)528-4478