I do not need a Groundhog to tell me spring is on it's way! I have been meeting with so many women motorcycle riders getting their custom leathers ready for the fast approaching riding season. Bikers know when spring is around the corner!
We are working together designing and creating riding leathers that match their personality, body type, motorcycle…whatever their heart desires! I am working with snake prints, shades of purple, subtle accents of pink…studding and appliques.
Yesterday I met with four women, all in different stages of their custom leather process. Their excitement inspired me to share the process from concept to the second fitting stage.
I chose my client Sally, as she fits all the criteria for custom clothing. She wanted riding leathers that are different and feminine. Combined with being petite with a full bust line, off the rack was not going to cut it for Sally's figure. Our starting point was Sally's bike….beautiful silver Honda Shadow with flame detail.
During our initial consultation we spoke about her everyday wardrobe, the style of clothing she is comfortable in and how she likes to look. I created a working sketch for myself ( I will always be a paper and pencil designer) from the sketch patterns drafted and her muslin (cotton) fitting.
We are working with a black 5oz cow leather with beautiful silver accents (to match the flame on her tank) in the expanders at the back of  her jacket, zipper insets and pockets. Sally has chosen the knee length half chaps (which are perfect for her petite frame)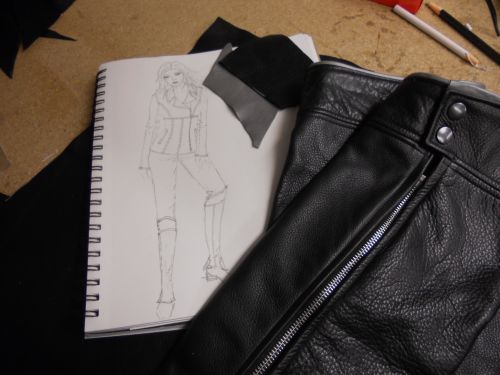 The jacket has the visual  effect of a corset and empire waist seaming to flatter her figure. The correct fit ensures that she is comfortable while riding…looking great too!
The white markings on the front show where the outside pockets will be. A tip for pockets on motorcycle jackets…make sure the zipper heads are at the bottom so they do not come open from the vibration of your bike.
The next fitting for Sally will have the zipper in, the pockets, black on black flame detail on the elbows (will look great and added protection) collar applied and her lining in.
Four fitting and she has the perfect lifetime jacket, and half chaps that are unique to Sally!
This is why I LOVE what I do!!!